| | |
| --- | --- |
| December 10, 2015 - 9:00 AM EST | |
Xebec Delivers its First Hybrid Biogas Upgrading System to Malaysia
(via Thenewswire.ca)

MONTREAL / TheNewswire / December 10th, 2015 - Xebec Adsorption Inc. (TSXV: XBC) ("Xebec"), a provider of gas purification and filtration solutions for the natural gas, field gas, biogas, helium, and hydrogen markets, announced today that it is delivering its first hybrid (Membrane/PSA) upgrading system to a major palm oil mill plantation operator in Malaysia.
Xebec's hybrid biogas upgrading system was developed over the last 18 months. It utilizes high performance polymer membranes combined with Xebec's fast cycle pressure swing adsorption (PSA) technology to deliver an overall methane recovery of up to 99.5%. In this particular project, Xebec is upgrading biogas from palm oil mill effluent (POME) to CNG quality natural gas which will be used to power local palm mill vehicles.
Images below: High performance membranes combined with Xebec's PSA system deliver methane recovery of up to 99.5%.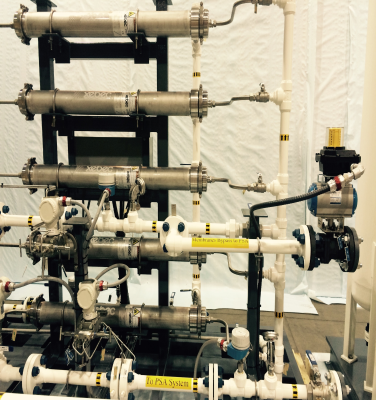 Click Image To View Full Size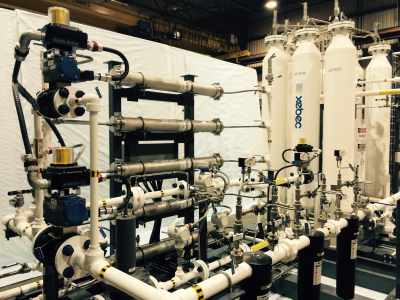 Click Image To View Full Size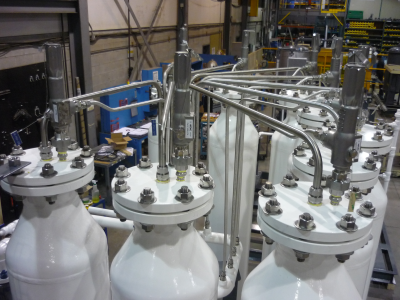 Click Image To View Full Size
Fast cycle PSA technology is a very robust and proven technology that automatically adapts to changing feed gas compositions while continuously maintaining solid product quality. The combination with advanced polymer membranes allows for that robustness of operation to be paired with the added ability to boost recovery to levels unobtainable by PSA technology alone. Due to the lower operating pressure of the PSA/Membrane system, power consumption and overall operating costs for this new system are one of the lowest in the market.
"At Xebec we strive for continuous improvement in every aspect of our business. Our process specialists have increased the performance of our biogas upgrading systems by over 6% on average, and our mechanical design group has made significant improvements on overall complexity reductions, allowing for superior performance without a corresponding cost increase. Our instrumentation, control and electrical (ICE) group has recently integrated advanced data analytics into our control systems, allowing our customers to access live performance data in graphical form via Xebec's cloud server." said Kurt Sorschak, President and CEO of Xebec Adsorption Inc.
He continued by stating that "We have an amazing product offering and the timing couldn't be better - renewable energy that reduces greenhouse gas (GHG) emissions is finally being recognized as one of the most important environmental initiatives to pursue today. Xebec is more than ready to deliver on the promise of a world powered by clean energy."
About Xebec Adsorption Inc.
Xebec Adsorption Inc. is a global provider of clean energy solutions to corporations and governments looking to reduce their carbon footprints. With more than 1,500 customers worldwide, Xebec designs, engineers and manufactures innovative products that transform raw gases into marketable sources of clean energy. Xebec's strategy is focused on establishing leadership positions in markets where demand for gas purification, natural gas dehydration, and filtration is growing. Headquartered in Montreal (QC), Xebec is a global company with two manufacturing facilities in Montreal and Shanghai, as well as a sales and distribution network in North America and Asia. Xebec trades on the TSX Venture Exchange under the symbol XBC. For additional information on the company and its products and services, please visit the Xebec web site at www.xebecinc.com.
Investor Relations contact:
Kurt Sorschak
President and CEO
450-979-8701
ksorschak@xebecinc.com
Copyright (c) 2015 TheNewswire - All rights reserved.
Source: TheNewsWire (December 10, 2015 - 9:00 AM EST)
News by QuoteMedia
www.quotemedia.com