| | |
| --- | --- |
| September 10, 2018 - 1:29 PM EDT | |
Bad News Bears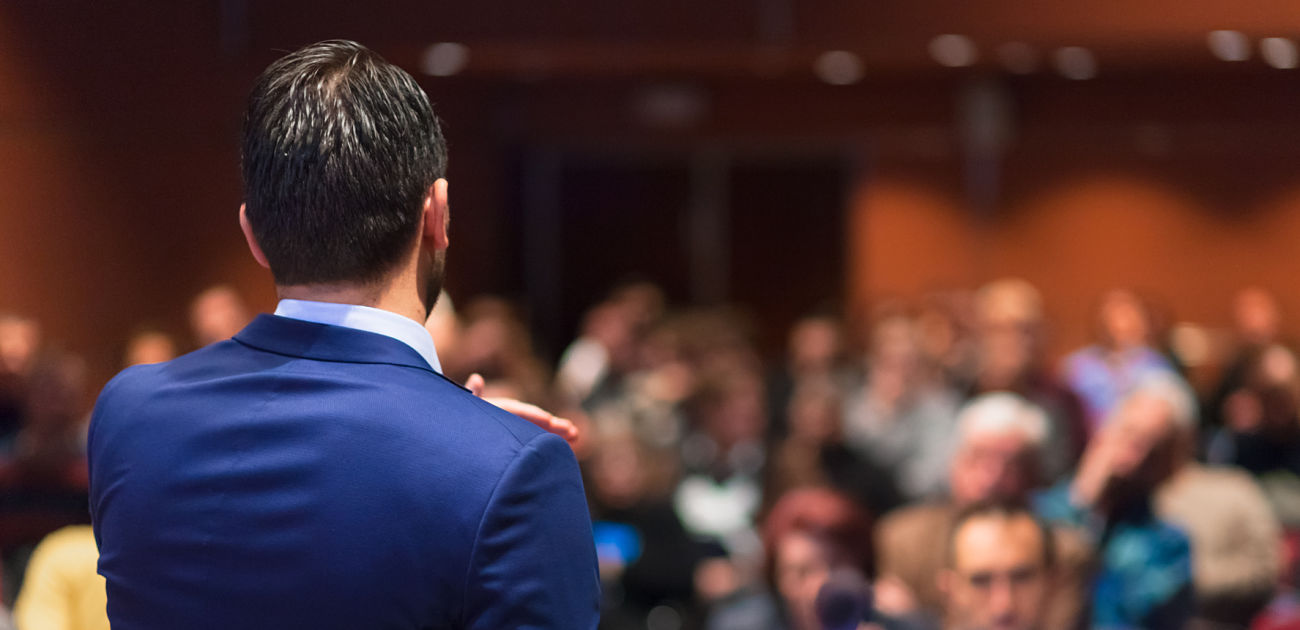 The LD Micro Index dropped this week as investors get ready for earnings season again. Micro-caps typically report later than most names on the street, but the pros that I know are getting ready now.
Labor Day week has been the unofficial start of "the rest of the year" for the financial services industry. Summer is over, the kids are back in school, and your credit card bill could not be higher.
It has also become one of the busiest conference weeks of the year. Close to 400 names presented this week just on the small company side, and the calendar will be very active for the following month.
We hosted the 7th annual LD Micro Summit this past Tuesday and featured 30 companies throughout the day. We were honored to have SEG and Proactive Investors (you can see some of the exec interviews here) as sponsors of the event, in which executives have 15 minutes to talk about whatever they like. No slide deck, no video, just your vocal chords.
What we have learned is that everyone at the table pays attention because everyone is part of the action. Plus, fifteen minutes goes by pretty quickly. 30 minutes can sometimes make for a long presentation.
A large contingency of our readership are executives.
Over 500 presentations will take place at LD Micro events this year.
Here are some things that I have learned through hosting, as well as investing.
Top 5 Tips:
1. Make sure you get the room's attention before going into the presentation. A "show of hands" is one of the most intelligent things that you can do, because you want to make your presentation about them. Israeli companies often do this, and it is very intelligent. One exec I know shakes the hands of everyone in the room and appreciates them for being present. I don't care what anyone says, eye contact is key to ensuring that someone feels wanted and respected. This is a good way to do it.
2. The most important slides in your deck should all be top heavy. Most investors know whether they are going to invest in something or not in the first five minutes of the presentation. Keep it simple, informative, and engaging. Focus on the "ultimate" goal and why you believe that management can achieve it.
3. Keep it short. Your slide deck should not be more than 20 pages. You should do one page a minute. This way you have time for questions and final thoughts. Historically, we have not done well with companies that have had really long slide decks.
4. Both the visuals and text should be balanced. Do not just post stock photos of people in professional attire, or write a drawn out bibliography. Have a bit of both.
5. Put something subliminal that catches people's attention. I love what the CEO of the One Group (STKS), Mr. Manny Hilario did at the Gateway conference this week in San Francisco. I do not know if it was intentional or not, but he has images of his food in between slides.
The presentation took place right before lunch, and everyone sitting down (including myself) was hungry. The execs presenting were able to keep people's attention, highlight some of their dishes, and had a few laughs in the process.
If you are having a good time, everyone in that room will feel it.
I can not wait to present Lahiji Fishing Services as Chairman Emeritus in December. If anyone snoozes, I am going to hit them with a fish.
Sincerely,Chris Lahiji
p.s. Here was an interview I did on the rooftop patio of our SF event, discussing the way the space has evolved and continues to do so...
---
Impact. Highlighting Anomalies Amongst the Biggest Gainers, Losers, & Volume Leaders.
by Christian Galatti (Phase 4 Research)
Pure Acquisition Corp. ( (PACQ)), 37x Average Volume...Is Pure About to Merge?
After trading less than 100,000 a day, PACQ traded over 2M on Friday. Pure Acquisition is a rarity; the oversubscribed SPAC. A blank check company that was given as much as it asked back in April.
"Occasionally a blank check IPO will stand out, as is the case today with Pure Acquisition (PACQ), which saw strong demand for its IPO. The company will be involved in seeking equity investments in various oil and gas assets." (Link.)
Belief in management starts with the HighPeak Energy team. The management behind the SPAC has an entire page of making people money in oil. It starts with the founder of Titan, and adds on from there. (Link.)
Jack Hightower
Chairman, CEO, President
Extensive industry experience as a chief executive across a broad range of market conditions and Industry cycles
CEO of Bluestem Energy Partners ‐achieved a 3.5x+ ROI (~70% IRR) upon sale to multiple parties for approximately $630mm
CEO of Celero Energy Company (CeleroII) –Assets were a significant part of the Centennial Resource Development IPO (2.48x ROI, 13.3% IRR)
CEO of Celero Energy, LP –Within one year, company achieved 3 material transactions and a 9.2x return (480% IRR)
CEO of Pure Resources, Inc. –publicly traded company eventually successfully merged back into Unocal (Titan/Pure: 6.1x ROI, 27% Net IRR)
CEO of Titan Resources, LP –Took company public and eventually merged with Unocal's Permian Basin and Rocky Mountain assets thus forming Pure Resources
CEO of Enertex Inc.
CEO of United Oil Services, Inc.
Two million shares traded on Friday...and didn't move the stock, an anomaly that made PACQ a highlight for the week. Pure Acquisition Corp. may have found their target to merge.
New Age Beverage Corporation ( (NBEV)), +44% Volume...Insider's Buy Their Own Story.
New Age Beverage thinks it can be next big thing. It's in the right space, it's drinks taste good, but until now the story hasn't fully come to fruition. With things aligned, management did what all management should do: they bought in.
When NBEV raised money at $1.28, $2.5M of the raise was from insiders. Allowing investors a much easier path to buy in as well. Massive insider buying always gets a look as it is one of the most important behavioral indicators in the Market. An anomaly that shouldn't be.
Certain of our officers and directors will purchase an aggregate of approximately $2.5 million of common stock in the offering at the public offering price per share. (Link.)
---
SEC Charges Microcap Fraudsters for Roles in Lucrative Market Manipulation Schemes
VirnetX ($VHC) Receives District Court's Final Judgment Affirming Jury's Verdict of $502.6 Million
ACQUISITION: Polaris Industries ($PII) to Acquire WSI Industries ($WSCI, +33.5%)
Pediapharm ($PDP.V) Announces Transformative Acquisitions and $60 Million Offering of Subscription Receipts
Netlist ($NLST) up 117% on a whopping 41m shares - Receives Favorable Claim Construction Order In ITC Investigation Of SK hynix
Alibaba's Jack Ma, China's Richest Man, to Retire From Company He Co-Founded via NYT
eGain ($EGAN) was down 38% for the week, despite reporting 37% Growth Year over Year in SaaS Revenue in Fiscal 2018
CURE Pharmaceutical ($CURR) Expands Distribution of CUREfilm Technology with First Licensing Agreement
Key Tronic Corporation ($KTCC) Awarded $6.7 Million in Arbitration Proceeding
Calix ($CALX) Announces Its New Global Headquarters Location in Silicon Valley, the Innovation Capital of the World...and overpriced real estate
Midwest Automotive Parts Supplier Converts from Propane Forklifts to European Electric Trucks Powered by Flux ($FLUX) LiFT Pack Lithium-Ion Batteries
Centric Health ($CHH.TO) Announces Strategic Partnership with Canopy Growth ($CGC)...the 8,000 lbs gorilla in weed
SRAX ($SRAX) Declares Right to Receive BIGToken Security and Sets Record Date for September 17, 2018

After a number of weeks of significant outperformance, micro-caps were down big this week, giving up over 2%. Meanwhile, the DJIA closed up 10 basis points.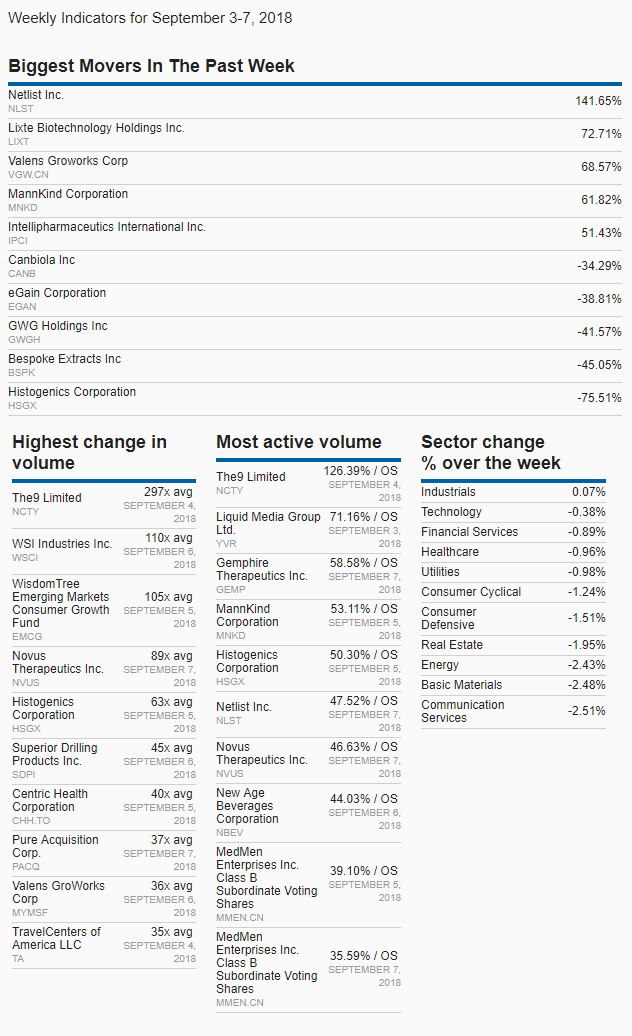 DISCLOSURE: The views and opinions expressed in this article are those of the authors, and do not represent the views of equities.com. Readers should not consider statements made by the author as formal recommendations and should consult their financial advisor before making any investment decisions. To read our full disclosure, please go to: http://www.equities.com/disclaimer
Source: Equities.com News (September 10, 2018 - 1:29 PM EDT)
News by QuoteMedia
www.quotemedia.com