| | |
| --- | --- |
| July 25, 2019 - 11:58 PM EDT | |
CF Energy Corp. Comments on Voting for Its Annual Meeting of Shareholders
TORONTO, July 25, 2019 (GLOBE NEWSWIRE) -- CF Energy Corp. (TSX Venture Exchange: CFY) ("CF Energy" or the "Company") announced today that the board of directors (the "Board") of the Company has been informed of a dispute as to the administration of the estate of Mr. Huajun Lin ("Mr. Lin"), which includes common shares of the Company. As a result of this dispute, the Independent Directors of the Company, having sought advice from counsel to the Company, concluded that the common shares of the Company held by the estate of Mr. Lin will not be accepted for voting at the Company's annual meeting of shareholders (the "Shareholders Meeting") to be held on July 26, 2019. To the knowledge of the Company, the estate holds approximately 34,683,500 common shares of the Company, or approximately 53.16% of the outstanding common shares of the Company. Accordingly, the matters of business to be considered at the Shareholders Meeting will be determined by votes cast by holders of common shares of the Company (or their validly appointed proxyholders) other than those held by the estate of Mr. Lin.

The Company does not believe that the dispute has or will have any material impact on the operations of the Company and its subsidiaries. The Company and its management and employees will continue to operate its business on the basis of the strategic course set by the late Mr. Lin, subject to oversight by the Board. Out of respect for the privacy of Mr. Lin's family, the Company does not intend to comment further on the dispute.
About CF Energy Corp.
CF Energy Corp. is a Canadian public company currently traded on the TSXV under the stock symbol "CFY". It is an integrated energy provider and natural gas distribution company (or natural gas utility) in the PRC. CF Energy strives to combine leading clean energy technology with natural gas usage to provide sustainable energy to its customer base in the PRC. In 2009, CF Energy was recognized as being one of China's the Top Ten Most Influential Brands in the Natural Gas Industry and in 2019, ranked amongst the 2019 TSX Venture 50 top performers on the TSXV for the 2018 year. 
Contact Information
Corporate Investment Relations
[email protected]
Charles Wang
Executive Assistant to CEO & Chair of the Board
[email protected]
Frederick Wong
Director of the Board
[email protected]
Neither TSX Venture Exchange nor its Regulation Services Provider (as that term is defined in the policies of the TSX Venture Exchange) accepts responsibility for the adequacy or accuracy of this release.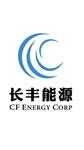 Source: GlobeNewswire (July 25, 2019 - 11:58 PM EDT)
News by QuoteMedia
www.quotemedia.com