| | |
| --- | --- |
| May 15, 2018 - 8:30 AM EDT | |
​Don't Trust Buffett, Gates on Bitcoin. CryptoCorner Index Up 7% on Week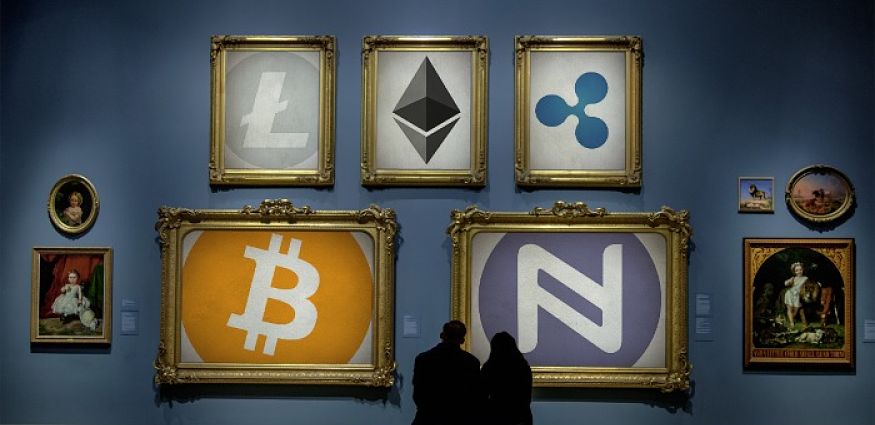 Nell Sloane's weekly CryptoCorner: Why you should not trust Warren Buffett or Bill Gates on bitcoin. Our CryptoCorner Index gained $281.10, up 7.4% on the week. NEO and EOS are the crypto stars this year. Ethereum continues to advance gaining over 15% on the week.
As all the wannabees settled into Omaha this past weekend, we couldn't help but laugh at Warren Buffett and his quotes on bitcoin. This whole Buffett charade makes us laugh as once again, apparently people view Buffett's opinion on anything and everything as "Gold."
We are constantly confused as to why people even bother asking any octogenarian about any new concept or fundamental change to the norm. In fact, it's like asking your grandpa to install new apps on your smartphone. You would never do it, so why do people care what he says about bitcoin or crypto anyway?
We don't, and you shouldn't either. Why?
Because Buffett doesn't operate on the same level as everyone else. He, like every other global elite, plays by a different set of rules, one that is fully integrated into the fiat money and debt system.
How else do you think they (Buffett and the 0.1%) accumulate such massive wealth? They do so not because they are any smarter than the most astute investors, but because they are well connected to the government and their central bank printing presses.
Does anyone honestly think Buffett and Co. bought Apple stock in Q1 without already knowing a juicy $100 billion stock buyback wasn't coming? Do you think that Buffett and Co. would have bailed out Goldman Sachs in 2008 without a guarantee from the U.S. Treasury?
None of this is conspiracy, this is rather well-known facts about the true nature of our debt inspired financial system.
The bright side is, once you realize that markets are not efficient, that all info is not disseminated equally, then you can position yourself appropriately.
What is obvious to us, is that the global elite will bash bitcoin and crypto all day long because they know the truth. The truth that their wealth that is valued in global fiat and that wealth is being heavily discounted by bitcoin and its cryptocurrency brethren.
What do we mean? Well it's simple, take any asset and price it in bitcoin and see exactly what its worth in comparison since bitcoin came to life:
Bitcoin vs 1 oz. of Gold = 7x more expensive
Bitcoin vs $1 US = 9000x more expensive
You get our point, but just to solidify this and to pick on Bill Gates, another bitcoin basher, let's look at the return of Microsoft equity vs bitcoin today.
If you spent $10k on MSFT 10 years ago, it would be worth $42k.
If you spent $10k on bitcoin eight years ago, it would be worth $3 billion. Yeah, that's right, that is a "B" for billion.
Point being here, Bill Gates is not an investor, he is a tech entrepreneur, or shall we say, was. So, we don't care about his opinion on bitcoin either.
Anyway, Buffett said something about bitcoin being "rat poisoned squared" or something stupid like that, and likened it to a Ponzi scheme, which is completely wrong once again.
---
---
What Buffett doesn't want his believers and his followers to realize is that debt-based capitalism operates as the very Ponzi, he describes bitcoin with. This is clearly outlined by demonstrating the sheer fact that more and more debt must be created so that others can mark the value of their holdings higher and higher. This isn't magic, it's just reversing the real fact, which is that assets are priced via debased dollars through inflation.
As you can see we are highly annoyed by these old timers and their lack of insight into innovation.
Instead of embracing change, they are clinging to analog in the age of digital. One thing we are certain, is that their way of accumulating assets is coming to an end and blockchain technology will remove all the games that they have played and continue to play.
**
Smart contracts and blockchain technology will eliminate a lot of the arbitrage M&A games that they play with debt and fiat-based capital structures.
The future will require more and more transparency and more accountability and nothing Buffett, Gates, or any other old-time crony can do about it.
The death of fiat began in 1971 and will be accelerated by bitcoin and cryptocurrencies, this we are certain.
**
OK enough of the picking on our elders. Let's look at the weekly settles of all the traditional markets we follow:
As you can see U.S. bond yields are holding steady, deathly afraid of settling over 3% in the 10-year sector.
The equity markets were heavily mixed as tech-heavy NASDAQ continues to outperform the other indices, up 5% on the year so far.
Crude Oil is holding near its highs and set another weekly high this week and is the star performer for the year up 14%.
The U.S. dollar continues to consolidate off the lows, but we aren't impressed and
view this as nothing more than a dead cat bounce.
**
Looking at the cyptocurrencies, they continue to hold recent gains:
Ethereum continues to advance gaining over 15% on the week. Bitcoin continues to pressure the coveted $10k level but expect pressure in both at current levels and consolidation to continue as large hands vie for position and try desperately to value these things.
NEO and EOS are the crypto stars thus far this year.
**
Our CryptoCorner Index gained $281.10 up 7.4% on the week. We won't truly get bullish unless we attack that $4300 level in the index. All the price action seems accommodative to consolidating higher which is constructive.
**
We continue to monitor the top 5 BTC wallets each week and the top wallet stands at 198,083 BTC, an area we are looking to see if it breaks through.
This wallet has seen this high level before, but we don't think it's ever been over the 200k BTC mark. Rounding out the top 5 the other 4 wallets were unchanged except for #2 which sold 5000 BTC on the week ending at 132,203 BTC.
Nell Sloane is principal and editor of Capital Trading Group.
Subscribe to the Capital Trading Group newsletter here
About MoneyShow.com: Founded in 1981, MoneyShow is a privately held financial media company headquartered in Sarasota, Florida. As a global network of investing and trading education, MoneyShow presents an extensive agenda of live and online events that attract over 75,000 investors, traders and financial advisors around the world.
DISCLOSURE: The views and opinions expressed in this article are those of the authors, and do not represent the views of equities.com. Readers should not consider statements made by the author as formal recommendations and should consult their financial advisor before making any investment decisions. To read our full disclosure, please go to: http://www.equities.com/disclaimer
Source: Equities.com News (May 15, 2018 - 8:30 AM EDT)
News by QuoteMedia
www.quotemedia.com