| | |
| --- | --- |
| October 12, 2018 - 8:00 AM EDT | |
Looking to Buy Equities, Crude Today. Watching VIX. Gold Notches Gains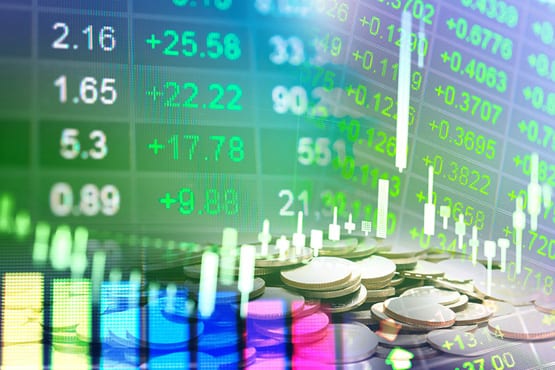 Bill Baruch, president and founder of Blue Line Futures, previews E-mini S&P, Gold, Crude, Forex and Treasury markets and today's economic report calendar. Follow his reports Monday-Friday on MoneyShow.com and short Midday Markets video.
Bill Baruch's Midday Market Minute short video for Oct. 12 here.
Volatility shakes the markets Friday.
Bill Baruch's FX Rundown short video for Oct. 11-12 here.
The Dollar Index (DXY) finished Thursday at the lowest level since last Monday after CPI data came in light. Several things to note on our radar plus a trade alert into Friday. Also: USD, euro, yen, CAD & Aussie.
E-mini S&P (December)
Thursday's close: Settled at 2745.50, down 35.50.
Fundamentals: The global landscape is much calmer this morning after the S&P (SPX) followed our roadmap perfectly to an overnight recovery. Thursday, we pointed to the significance of CPI data which did come in soft for the second month in a row. This fails to confirm the newfound hawkishness of Fed Chair Powell and his officials.
Although major U.S indices were higher early, they could not chew through resistance and the only cure for Wednesday's damage was lower prices. In our Technical section we gave the level to buy, which sat upon a new low, as long as CPI data came in soft. Price action briefly dipped below our major three-star support buy target but those who were patient through the session were able to stand strong with their purchases and capitalize into this morning.
Earnings season officially kicks off this today with a trio of big banks. JP Morgan (JPM) has captured headlines with a strong report and is up 1.25% premarket. Wells Fargo (WFC) and Citigroup (C) are on deck. Some have pointed to the recent correction as worse than February because the red flags in the global economy are popping up, adding that in February there was much more uncertainty and that was a better thing. We outright disagree with this thesis, however, we found dips as tremendous buying opportunities then and we will again now.
For us, we are traders. It is not our job to plan six to twelve or eighteen months out. We like to look over the next two weeks and through the quarter. While we have no reason to believe earnings will miss, we do believe the economic data will slow as the tailwinds from policy reform dissipate and the international trade conflict pokes its head into the data.
Is this a bad thing for stocks in the fourth quarter? In our mind, absolutely not! If the data cools, then the Federal Reserve is less hawkish and potentially dovish, and we know how this can be a potent stew for higher prices. Now, let's add solid earnings and a seasonally bullish time of year or the potential of good news on trade with the U.S. and China (a catalyst in buying Thursday) and we now have a firm backdrop to believe the S&P will be much higher than this in December.
What happens in January is not our concern right now. This does not mean rush to the buy button but let's break down some of the levels to know in the Technical section below.
Technicals: Price action has been flirting with our pivot that aligns with the December and continuous 200-day moving averages for the last 12 hours. As we said Thursday, this level will remain key on a closing basis; below here the bears are clearly in the driver seat. You could see this Thursday afternoon, selling accelerated once it was taken out. For us, Thursday's move lower was crucial and expected; this was a necessity in forming a bottom. Now, is a bottom in? We do not know this, but we can understand from this price action where the buy zones are. First, we find major three-star support at ...
Today's economic calendar
U.S. Import and Export Price Indexes summary is out.
Chicago Fed President Evans speaks at 9:30 am EDT and we have said all week that although he will not vote in December, it is important to pay attention to this 2019 voting member.
The freshest data point each month is the first look at University of Michigan Consumer Sentiment October is out.
Crude Oil (November)
Thursday's close: Settled at 70.97, down 2.20.
Fundamentals: Thursday's EIA report was not as bearish as API and this is great when scratching the surface of the near to intermediate term.
However, our biggest concern and a major catalyst in going Neutral in Bias over the last week was more tied to our Bearish Bias in the S&P coupled with a 'buy the rumor, sell the fact' into the Hurricane; Bill Baruch broke this down Thursday with Yahoo Finance. Late Thursday, when the equity market found solid footing and Crude Oil regained our rare major four-star support, this was the time for buyers to step to the plate.
In the longer-term we have held unequivocal confidence that the fundamental landscape, tightening spare capacity and impending seasonally bullish time of year will prove that our rare major four-star level is a great buy opportunity. The question would be whether traders can handle the volatility which is now showing signs of subsiding.
The IEA released their Monthly Report this morning and gave further credence to our bullish thesis tied to spare capacity. They said that the market is "adequately supplied" but spare capacity is down to 2% of global demand and is likely to continue to shrink. They added that, "this will cause strain which will lead to higher prices."
Technicals: Thursday's low of 70.51 kissed the November contract July high perfectly and a level we view as minor support. Below here is first key support at 70.14. What matters most though is a continued close above our rare major four-star support at ... 
Gold (December)
Thursday's close: Settled at 1227.6, up 34.2.
Fundamentals: Gold notched its best gain since June 2016 Thursday. Shorts began covering and Wednesday as equity market volatility picked up and a softer U.S. dollar (USD) provided a tailwind. The true turning point though was when CPI came in soft. This was the second month in a row where inflation came in below expectations and furthermore, this did not confirm the Fed's recently hawkish rhetoric.
Bill Baruch covered Gold, inflation and 4th quarter growth Thursday in an interview with Yahoo Finance. Important and Export Price Index data this morning was mixed. We look to Chicago Fed President Evans at 9:30 am EDT. Although he will not vote in December, Evans was up until recently known as a steadfast dove and his comments are now more important because he is a voter in 2019. Michigan Consumer data is out. This is the freshest data point each month as this will give the first look at October.
Technicals: Gold ripped to a high of 1230 but is pulling back a bit into this morning as battered longs are quick to take profits and shorts are repositioning now that the equity market is stable. We have major three-star support at ... 
Please sign up for a free trial at Blue Line Futures to view our entire technical outlook and proprietary bias and levels.
Bill Baruch's FX Rundown for Oct. 2-3: Euro bottoms. Yen listless. Aussie subdued. CAD eyes rally.
View a short video: Bill Baruch: Trading Futures. Gold, USD, yuan.
Recorded: TradersExpo Chicago July 24, 2018.
Duration: 4:34.
Source: MoneyShow.com (October 12, 2018 - 8:00 AM EDT)
News by QuoteMedia
www.quotemedia.com