| | |
| --- | --- |
| November 30, 2018 - 8:05 AM EST | |
​MGX Minerals Reports Up to 100% SiO2 at Gibraltar and 99.9% SiO2 at Wonah Silica Properties; Completes 2nd Drill Hole at Gibraltar
Spotlight News
  Follow | Friday, 30 November 2018 08:05 (EST)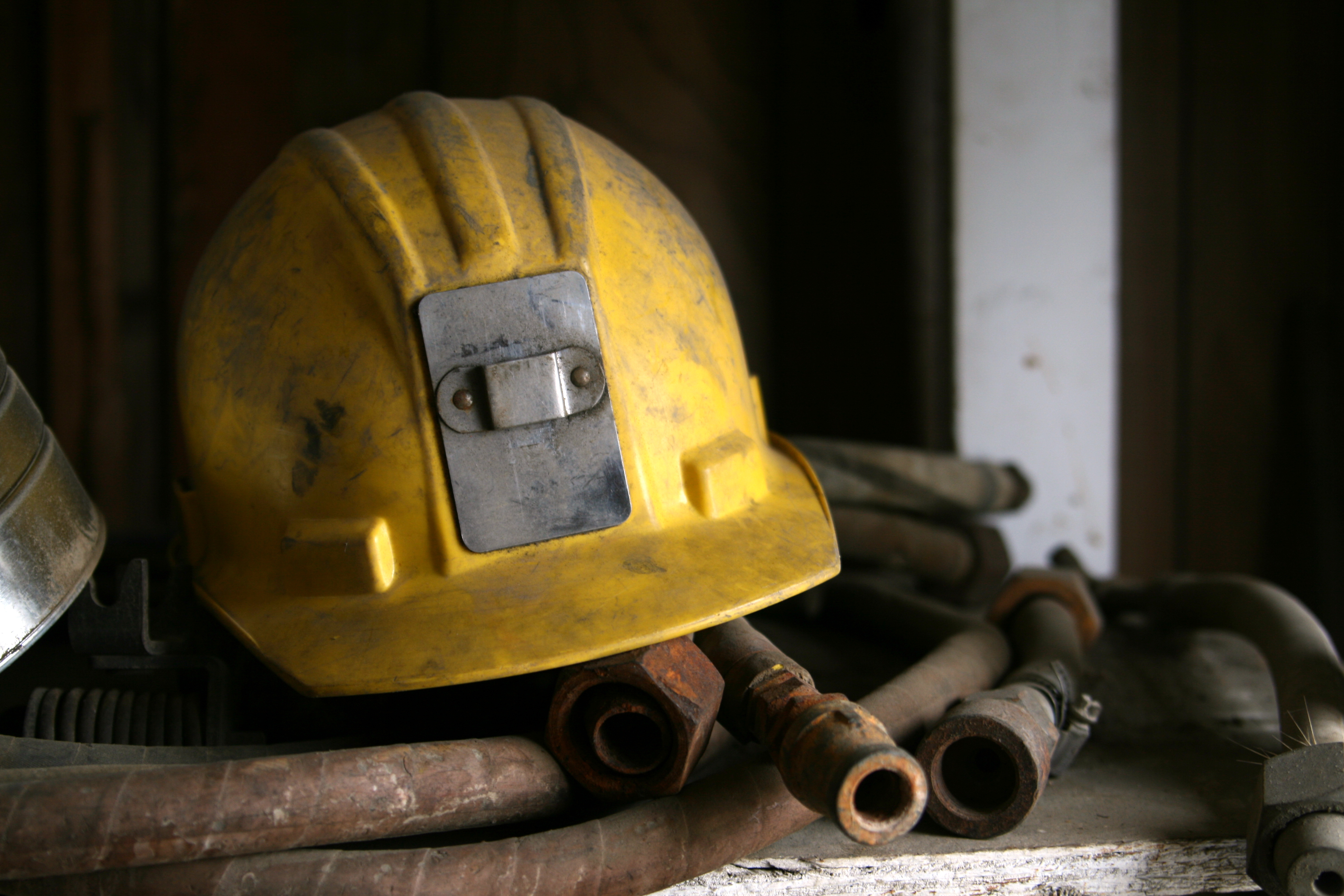 MGX Minerals Inc.  (XMG:CNX) (MGXMF) ()is pleased to provide an update for its Gibraltar ("Gibraltar ") and Wonah ("Wonah") silicon properties located in British Columbia. MGX is investigating the potential to source high-grade silica as a feedstock to be used in industrial silicon metal and solar silicon metal applications.
Gibraltar Silica
Gibraltar is located approximately 95 kilometers northeast of Cranbrook, BC (B.C. MINFILE 082JSW001). The Gibraltar quartzite unit is located in the foreland thrust zone of the Hughes Range of the Rocky Mountains. It covers a sedimentary clastic-carbonate rock package located near the confluence of Kootenay and White River. Sedimentary rocks generally have a north-northwest strike, but locally a north-northeast strike is prominent. Minor folding was noted in the carbonate sequence immediately adjacent to quartzite unit. Two westerly dipping thrust faults (Hay, Carter, 1988) are believed to run north-south close to the eastern edge of the Gibraltar property.
The Company has completed 2 drill holes of an 8-hole drill program at the Gibraltar South Zone totaling approximately 2,100 feet. The holes will be located at the Red Cloud quarry that was operated on a small scale in 1967. The objective of the drill program is to test subsurface dimensions of high purity quartzite. The Gibraltar North Zone has been sampled, mapped and the area located about 400 meters north of the south zone, represents the continuation of the Mount Wilson Formation quartzite.
Rock chip samples were analyzed by ALS Minerals, North Vancouver, BC, using Li Borate fusion, whole rock analysis ME-XRF-06 (XRF26), results of significant elements are summarized by percentage as follows: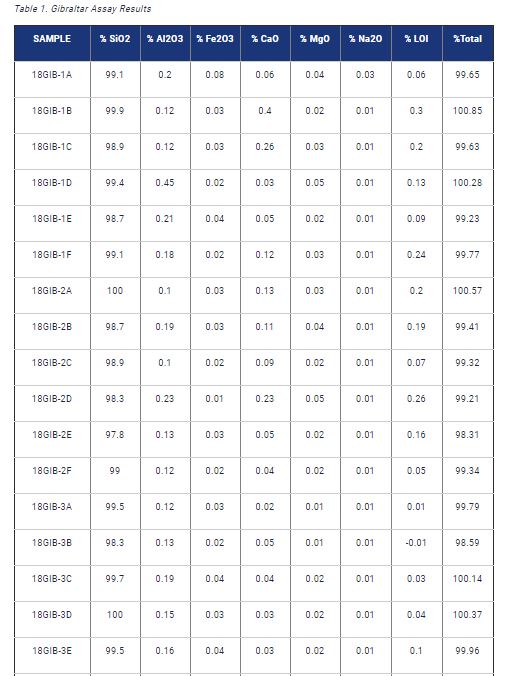 Metallurgy
A one-ton sample of quartzite was from Gibraltar was shipped to an independent lab Dorfner Anzaplan, in Germany, for mineralogical analyses through X-ray diffraction analysis, chemical analyses through X-ray fluorescence spectroscopy, grain size distribution, mineral processing analysis, automated optical sorting, and thermal stability testing (see press release dated October 11, 2018). The sample was crushed and screened into fractions between 20–120 mm for evaluation of applicability of these fractions as feedstock for metallurgical-grade silicon production. Results indicate that the material, after comminution and classification fraction, is of high initial purity (99.5 wt.-%), making the fraction chemically suitable as medium quality feedstock material for metallurgical-grade silicon metal production.
Figure 1. Gibraltar
Image: https://www.accesswire.com/users/newswire/images/529428/a44cf3e7-8d10-4e55-b528-81b4c25abf45.jpeg
Figure 2. Gibraltar
Image: https://www.accesswire.com/users/newswire/images/529428/17cedc38-4c60-45c0-82f8-537396d23708.jpeg
Figure 3. Gibraltar
Image: https://www.accesswire.com/users/newswire/images/529428/046d7e8d-5d73-4519-9151-32f02bf4fb0f.jpeg
Wonah Silicon
The main target at Wonah includes the ridge where steeply dipping Ordovician age quartzite is exposed over a strike length of approximately 850 meters. Geological mapping, geochemical sampling, and surveying identified a series of white quartzite outcroppings (Wonah Quartzite Formation) that form 2 lenses, the 'Central Zone' that has been traced for approximately 500 m, and South Zone traced for 350 m along strike. The Central and South Zones consist of a highly competent quartzite unit that trends N to NNE, is approximately 50 meters in width, and has a steep east dip. There is an ESE trending fault between the Central and South Quartzite Zones that has an approximate 200 m sinstral, horizontal displacement.
Rock chip samples were analyzed by ALS Minerals, North Vancouver, BC, using Li Borate fusion, whole rock analysis ME-XRF-06 (XRF26), results of significant elements are summarized by percentage as follows: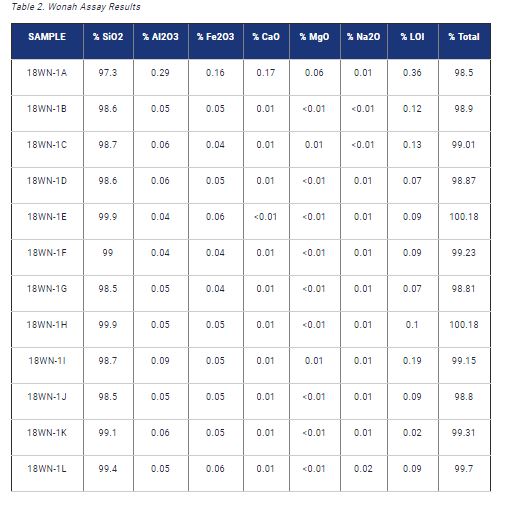 MGX operates three silicon projects in southeastern British Columbia- Koot, Wonah and Gibraltar.
Energy Applications
MGX has prioritized evaluation and development of its silica projects for silicon metal potential. One of the primary uses of silicon metal as feedstock for solar grade silicon for solar panels. Solar panels are a cornerstone to remote and distributed energy solutions. Solar, combined with a mass storage system, such as that currently under development by MGX Renewables has broad applications in energy storage for residential and commercial, grid level mass storage, energy arbitrage and trading opportunities. Additional information on MGX Renewables energy storage systems is available at www.mgxrenewables.com.
Qualified Person
Andris Kikauka (P. Geo.), Vice President of Exploration for MGX Minerals, has prepared, reviewed and approved the scientific and technical information in this press release. Mr. Kikauka is a non-independent Qualified Person within the meaning of National Instrument 43-101 Standards.
About MGX Minerals
MGX Minerals is a diversified Canadian resource and technology company with interests in global advanced material, energy and water assets.
In the interest of full disclosure, we call the reader's attention to the fact that Equities.com, Inc. is compensated by the companies profiled in the Spotlight Companies section. The purpose of these profiles is to provide awareness of these companies to investors in the micro, small-cap and growth equity community and should not in any way be considered as a recommendation to buy, sell or hold these securities. Equities.com is not a registered broker dealer, investment advisor, financial analyst, investment banker or other investment professional. We are a publisher of original and third party news and information. All profiles are based on information that is available to the public. The information contained herein should not be considered to be complete and is not guaranteed by Equities.com to be free from misstatement or errors. The views expressed are our own and not intended to be the basis for any investment decision. Readers are reminded to do their own due diligence when researching any companies mentioned on this website. Always bear in mind that investing in early-stage companies is risky and you are encouraged to only invest an amount that you can afford to lose completely without any change in your lifestyle. Equities has been compensated with cash, common shares and/or warrants for market awareness services provided.
DISCLOSURE: The views and opinions expressed in this article are those of the authors, and do not represent the views of equities.com. Readers should not consider statements made by the author as formal recommendations and should consult their financial advisor before making any investment decisions. To read our full disclosure, please go to: http://www.equities.com/disclaimer
Companies
Comments
Source: Equities.com News (November 30, 2018 - 8:05 AM EST)
News by QuoteMedia
www.quotemedia.com