TransCanada purchases Columbia Pipeline Group for $10.2 billion plus assumption of debt
After years of regulatory limbo to get its Keystone XL pipeline resulted in nothing, TransCanada (ticker: TRP, TransCanada.com) found a new way to continue expanding its North American foot print; the company announced yesterday that it will acquire Columbia Pipeline group for US$13 billion, resulting in a combined $23 billion portfolio of secured, near-term growth projects, according to a press release from the company.
Houston-based Columbia Pipeline Group operates approximately 15,000 miles of interstate natural gas pipelines extending from New York to the Gulf of Mexico, with one of the country's biggest underground storage systems and related gathering and processing assets. Most of the assets are in the Marcellus and Utica shale formations in Pennsylvania, West Virginia and Ohio.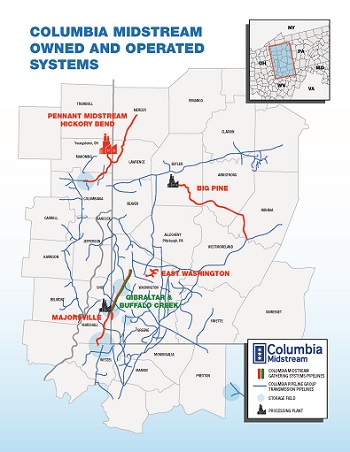 Under the terms of the all-cash deal, TransCanada will pay $25.50 per common share of Columbia Pipeline Group, an 11% premium based on the company's closing stock price on March 16, and a 32% premium to the volume weighted average price over the last 30 days. The per-share price equates to approximately $10.2 billion, plus the assumption of $2.8 billion of debt, for a total deal value of $13 billion.
In its press release, TransCanada said the deal will increase 2015 adjusted pro forma EBITDA from regulated and long-term contracted assets to approximately 92%.
"With a combined portfolio of $23 billion in near-term projects secured by cost of service regulation or long-term contracts, we are well positioned to generate significant growth in earnings into the next decade," said TransCanada CEO Russ Girling. "These initiatives, underpinned by predictable and growing revenue streams, are expected to support and may augment our eight to 10 per cent expected annual dividend growth through 2020."
Financing the deal
TransCanada plans to finance the deal through a number of different streams. Along with the deal announcement, the company released news that it will offer $4.2 billion in subscription receipts to partially finance the acquisition. TransCanada has agreed to sell 92 million receipts to a syndicate of underwriters led by RBC Capital Markets and TD Securities, which will offer them to the public at a price of $45.75 per subscription receipt. The underwrites also have an option to purchase up to an additional 4.6 million subscription receipts at the same price.
Subscription receipts entitle the holder thereof to automatically receive a share in the company upon the closing of the acquisition. If the deal does not close by a specified date, the subscription receipts are cancelled and the subscriber's money is returned, with interest.
TransCanada said it would also seek to monetize its U.S. Northeast merchant power assets and a minority interest in its Mexican natural gas pipeline business in order to raise addition capital for the deal.
As an interim measure, TransCanada has bridge term loan credit facilities of up to $10.3 billion, through a syndicate of lenders.