WPX Energy reports 15% higher oil volumes in the Delaware
WPX Energy (ticker: WPX) released its second quarter results today, reporting that the company joined the 100,000-acre club in the Delaware Basin.
WPX undertook a $5.5 billion transformation to become a more oily company following Rick Muncrief's  appointment as CEO, after which the company made the Delaware its flagship basin.
Following the acquisition of 7,800 net acres from a privately held undisclosed buyer, WPX conducted new estimates on its Delaware Basin assets to reflect the new acreage and improved EURs. The results of the most recent estimates show the company has 2.4 billion BOE of net resource potential, more than double the 1.1 billion barrels estimated in the previous assessment. The estimate also raised the projected number of gross drillable locations to more than 5,500 from more than 3,600, WPX said in its press release.
Muncrief previously worked for Continental Resources (ticker: CLR), where he oversaw an increase in reserves and production of 1,093.8 MMBOE and 94.5 MBOPD, respectively. Now with WPX, Muncrief hopes to recreate that growth story using the Delaware.
"The Permian and the Bakken are the top two oil plays in the country," Muncrief said to Oil & Gas 360® during an interview.  "The Bakken helped to pioneer horizontal drilling and fracture stimulation. The Permian will be able to benefit from that, so the learning curve will be much shallower.  It has more of a resource assessment flavor to it. There's a lot more upside, we just need to get out there and try [to unlock it]."
In addition to its expanding upstream activities in the basin, WPX is also planning a 50 mile crude oil pipeline system across its leasehold with total capacity of approximately 100 MBOPD.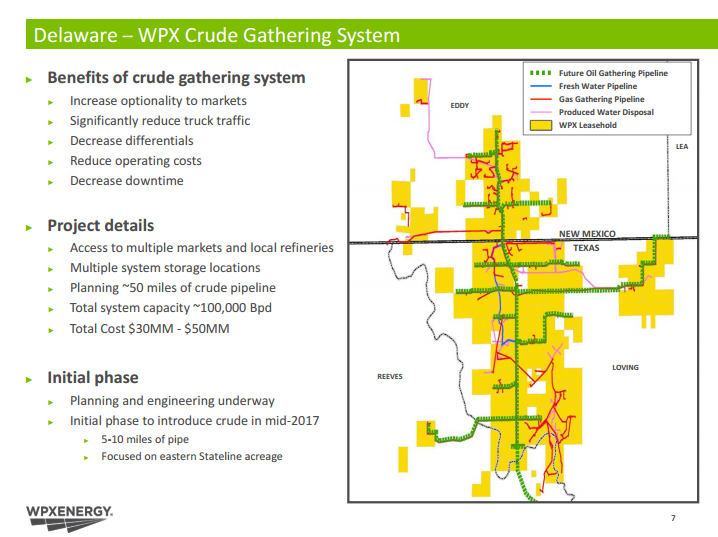 "The benefits of the system are very significant," said WPX Senior Vice President and COO Clay Gaspar during the company's conference call today. "They include increased market options, improved differentials, improved lease operating expense, reduced well downtime, and significantly reducing the challenges of the truck traffic on these roads.
"By having pipe in the ground in the face of what we know will be an increasing activity level in and around us, we think we'll be offsetting as much as $3 a barrel related to the trucking in the future state," he said.
When asked about future acquisitions in the basin, WPX management said the company does not need to make any more acquisitions, but it is keeping an eye out for deals.
"The RKI deal for us was absolutely transformational and a necessary move in our portfolio," said Muncrief. "Now that we have that we just talked about the resource potential there. The bar has moved materially higher for that next bolt-on or that next material deal. We don't need to do a deal, but with the amount of transaction and the amount of opportunity in this amazing basin, as Rick mentioned, we want to be in the conversation and at the table on every deal. But know that we are continuing to raise that bar and make sure that it makes good sense for our organization."