From Bloomberg
Petroleo Brasileiro SA, the world's biggest junk-rated borrower, canceled a plan to sell 3 billion reais ($790 million) of local bonds after the state-controlled oil producer's credit rating was cut to junk by Standard & Poor's last month.
Petrobras couldn't raise as much as it wanted because of lackluster demand and may attempt to sell the bonds at a later date, according to a person familiar with the matter who asked not to be identified because the information is private. The company said Thursday it had suspended the sale due to adverse conditions in capital markets.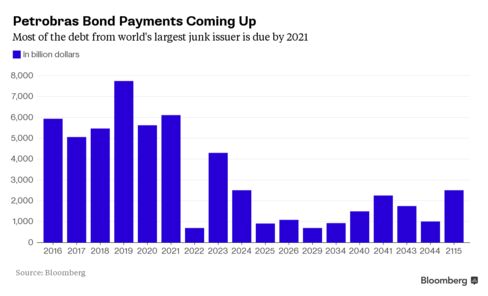 The cancellation marks a fresh blow to Petrobras, which is already suffering from a tumble in crude prices and a wide-ranging investigation into alleged kickback schemes that has led to calls for President Dilma Rousseff's impeachment. The Rio de Janeiro-based company's shares have tumbled 62 percent in the past year and its bonds are trading at distressed levels. Global demand for Petrobras securities is also being sapped by the real's 31 percent plunge against the dollar this year.
"The political environment and its negative loop with the macro is weighing on Petrobras," said Jorge Piedrahita, the chief executive officer of brokerage Torino Capital LLC in New York.
The company's shares fell for a third day, declining 2.6 percent to 7.75 reais as of 12:14 p.m. in Sao Paulo. It's $2.5 billion of overseas debt due in 2024 dropped 0.25 cent to 77.9 cents on the dollar, boosting the yield to 10.2 percent.
A slow start to the company's asset sale program is making it more reliant on bank loans and credit markets to finance investments and service its debt in the coming years. This month, the producer reduced its estimate for 2015 revenue from asset sales to $700 million from $3 billion, and also cut its 2015 investment plan to $25 billion from $28 billion and slashed its forecast for 2016 expenditures by $8 billion.
The company will face challenges as it seeks to roll over $60 billion in maturing debt over the next four years, Deutsche Bank's analyst Eduardo Vieira wrote in a report. Petrobras has $104 billion coming due in the next nine years and will suffer should oil prices stay subdued and the real remain weak, Vieira wrote.
Fitch Ratings, which classifies Petrobras at the lowest level of investment grade, has said the company is one of the Brazilian issuers most vulnerable to the effects of a selloff in the local currency. This year's slide in the real has made it the worst performer in emerging markets.
Once valued at $310 billion at its peak in 2008, making it the world's fifth-largest company, Petrobras is currently worth $31 billion in the stock market.