Cenovus announces $3.0 billion bought deal common share financing
Cenovus Energy (ticker: CVE) announced Thursday that the company closed a previously announced $3.0 billion common share financing deal. A total of 187.5 million common shares were sold at a price of $16.00 per share, according to the company's press release. Thursday's deal came on the heels of a $2.9 billion senior note offering Wednesday as Cenovus looks for ways to pay down its $17.7 billion acquisition of ConcoPhillips' (ticker: COP) oil sands and Deep Basin assets in Canada.
Cenovus is acquiring ConocoPhillips' 50% interest in the FCCL Partnership, the companies' jointly owned oil sands venture operated by Cenovus, as well as the majority of ConocoPhillips' Deep Basin assets in Alberta and British Columbia.
The proceeds from the $3.0 billion offering Thursday will also be used to reduce the company's outstanding indebtedness, finance future growth opportunities including acquisitions and investments, finance its capital expenditures, repurchase outstanding common shares or for other general corporate purposes, according to the company.
Companies returning to equity markets for financing
With oil prices remaining relatively stable in the $50 per barrel range, many companies are beginning to return to equity markets to finance mergers and acquisitions.
M&A activity slowed significantly during the oil price downturn as buyers and sellers were unable to agree on the value of assets, and many companies had difficulty tapping capital markets for major deals.
This was most apparent in 2015 when both the number of M&A deals and their overall value dropped dramatically before rising in 2016. Deal value has already exceeded levels from last year in 2017 despite a smaller deal volume as companies start to look at making more deals.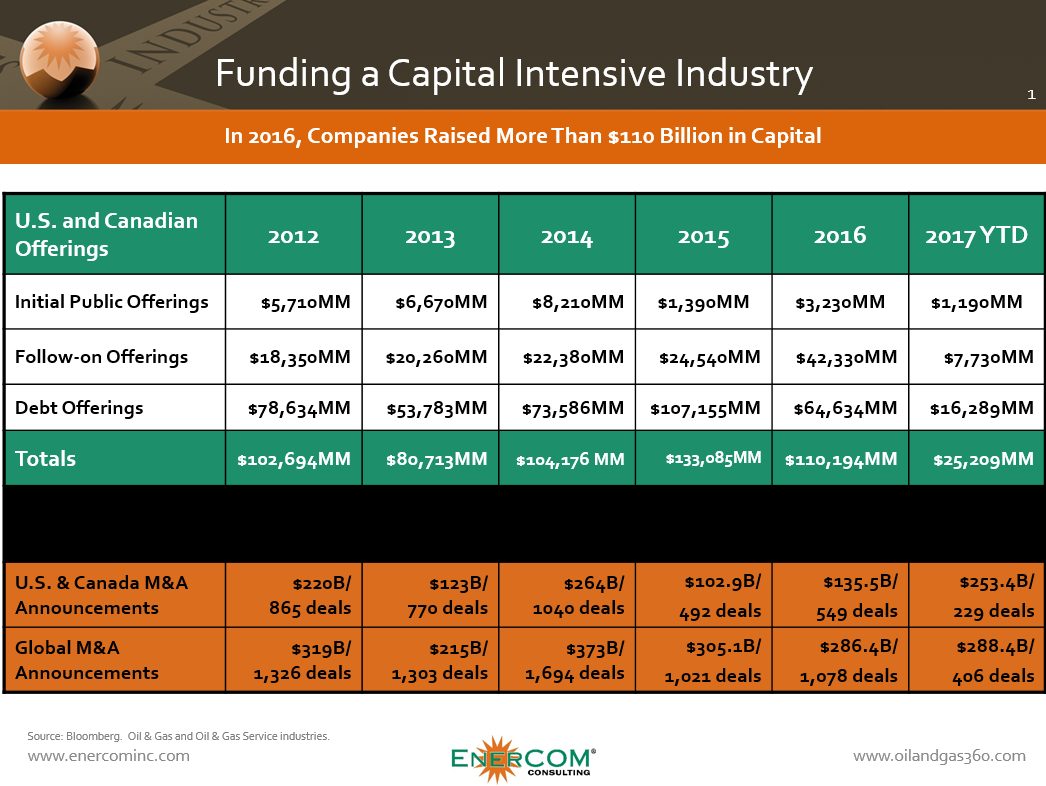 An increasing number of the deals taking place in the first quarter of 2017 were corporate acquisitions as well, suggesting that operators are willing to take on the balance sheets of other companies as they look to expand their operations. During the downturn, fewer corporate deals took place as companies tried to defend their balance sheets and divest assets as strategically as possible.
Canadian capital
So far this year, Canadian oil and gas companies have announced $29.7 billion of M&A deals, according to information from Bloomberg, more than twice as much in terms of deal value as had been announced at this time last year. For full-year 2016, the Canadian oil and gas sector announced a total of $45.7 billion in M&A transactions, meaning the industry has already announced 65% of last year's total deal value in the first quarter of this year.
In EnerCom's Energy Data and Trends Monthly from February, we explored changes in M&A activity over the downcycle, which deals affected company share price the most, and how equity played into a number of M&A transactions. To learn more about the monthly and EnerCom's analysis of M&A activity, click here.