| | |
| --- | --- |
| February 1, 2016 - 7:46 AM EST | |
How Equities are Impacted by Falling Commodity Prices
Equities are inextricably linked to commodities and the proof of the pudding is in the listed companies engaged in commodities trading.
What do we know about equities and falling commodity prices?
Price movements in major averages have been tracking commodity prices, notably crude oil in recent weeks. By mid-January, the correlation between crude oil prices and equities was already well established. As crude oil prices plunged, equities moved in sync with the volatile commodity, tracking lower. The psychological connection between falling commodity prices in equities is rooted in the overall health of the global economy vis-a-vis China and emerging markets. While the US economy remains fundamentally robust, it does not exist in isolation and the companies that comprise the S&P 500 index, the NASDAQ and the Dow Jones Industrial Average operate globally. The interrelatedness of markets ensures that what happens outside of Johannesburg, South Africa impacts on London, England through the Johannesburg Stock Exchange (JSE) and the London Stock Exchange (LSE) respectively. And since multinational corporations such as Anglo American, BHP Billiton (BHP), Rio Tinto (RIO), Vale SA (CALE) and others have business units throughout the world, there is no getting around the domino effect.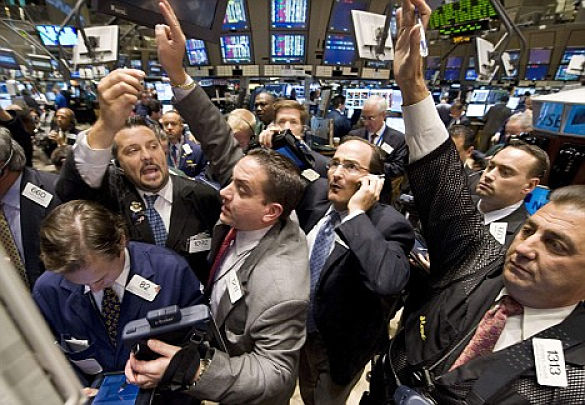 Oil Price Weakness Hampers Interest in Equities
By January 15, 2016 oil prices had crashed below the critical $30 per barrel support level. That is a psychological barrier that proved to be resistant to pressures in the oil market. However rampant oversupply, weak demand, declining GDP in China with falling imports and exports and a host of other factors have combined to wreak havoc on commodities markets. That China has been the biggest consumer of mining and energy stocks from emerging market economies is notable. As the largest buyer of iron ore, copper, crude oil, natural gas, coal, molybdenum and other commodities, Chinese demand is essential to the success and profitability of multinational corporations operating in emerging market economies.
The peripheral industries that are impacted by declining revenues in energy and metals are widespread. The inclusion of additional suppliers in the global oil markets – Iran – has added tremendous pressure onto an already overwhelmed supply chain. 18 oil tankers housing 12 million barrels of Iranian oil are waiting to be dumped onto the crude oil markets, and Iran has a capacity of 500,000 barrels of oil per day waiting to be offloaded. When the price of oil crashed through the critical $30 support level, equities markets tanked on Wall Street. Investors lost confidence in the relatively stable bourses and flocked towards safe haven assets fearing the worst as recessionary fears surfaced. All across Europe, indices tracked lower, Wall Street major averages plummeted, and everyone sought refuge in traditional safe-haven commodities like gold.
Why Have Investors Abandoned Equities as Oil Prices Have Tumbled?
One would be remiss to assume that plunging oil prices are based on anything other than oversupply and weak demand. The fundamentals of major averages on Wall Street are sound. Speculators are driving market sentiment, and the mood of the moment is bearish. When the US dollar is strong, as it is now, dollar-denominated commodities are expensive for foreign buyers. With the US dollar index high, it makes sense that demand for commodities like copper, iron ore, coal, oil and the like will come under pressure. With massive oversupply dogging the markets, and more to come, there is no way but down for crude oil prices at this juncture. That does not inspire confidence in the global economy owing to deflationary fears. The European Central Bank, the Fed, the Bank of England, and the Bank of Japan have all been targeting an inflation rate of 2%. However persistently low crude oil prices are making it increasingly difficult for any of the central banks to hit their targets.
As oil prices continue to plunge, so consumer price indexes are struggling to maintain normalcy, and rising prices are difficult to come by. As recently as Friday, 29 January, the Bank of Japan announced a negative interest rate of -0.1% for all deposits made. This is being done to discourage consumers from investing their money in banks. In other words, quantitative easing is being encouraged so that people will borrow more and accelerate the velocity flow of money thereby increasing the rate of inflation.
When investors see the actions of central banks including the People's Bank of China devaluing the CNY, the ECB injecting €60 billion per month for 6 months in additional stimulus + a negative interest rate of -0.30% for deposits, and similar measures by EM countries, it is clear that there is reason to be concerned. Now that the Fed has decided to gradually increase interest rates, the cost of credit for US companies will increase and that means profitability for US companies will decrease, along with dividends. This naturally leads to a sell-off in equities markets and a move towards bonds and Treasuries where the yields are higher. While the correlations between plunging commodity prices and equities are not entirely linear, the actions of speculators and the fundamental weaknesses of emerging market economies and China are playing a big part in driving equities prices lower.
Author's Bio: Brett Chatz is a graduate of the University of South Africa, and holds a Bachelor of Commerce degree, with Economics and Strategic management as his major subjects. Nowadays Brett contributes from his vast expertise for the globally renowned spread betting and CFD trading company – Intertrader.
DISCLOSURE: The views and opinions expressed in this article are those of the authors, and do not represent the views of equities.com. Readers should not consider statements made by the author as formal recommendations and should consult their financial advisor before making any investment decisions. To read our full disclosure, please go to: http://www.equities.com/disclaimer
Source: Equities.com News (February 1, 2016 - 7:46 AM EST)
News by QuoteMedia
www.quotemedia.com