| | |
| --- | --- |
| September 17, 2018 - 8:30 AM EDT | |
MGX Minerals Announces BLM Permit Approval for 3D Seismic Survey at Paradox Basin, Utah Petrolithium Project
MGX Minerals Inc.  (XMG:CNX)  (MGXMF)is pleased report that the Company's local Operating Partner (the "Partner") has received approval from the U.S. Bureau of Land Management ("BLM") to complete a 65.4 square mile 3D seismic survey over the Blueberry Unit ("Blueberry") at the Company's Utah Petrolithium Project (the "Project") located in the Paradox Basin of Utah. The survey will include 9,062 source points and comprise 6,354 vibrator points, 841 buggy drill points and 1,867 Heli points. The Company plans to commence the 3D Seismic Survey shortly.

The Blueberry Unit (oil, gas and lithium) and Lisbon Valley claims (lithium) consist of approximately 115,000 acres of oil and gas leases and 118,000 acres of largely overlying and contiguous mineral claims. The Project is being simultaneously explored for oil, gas, lithium and other brine minerals to determine locations for deployment of the Company's lithium and mineral extraction technology. Brine content within the Lisbon Valley oilfield have been historically reported as high as 730 ppm lithium (Superior Oil 88-21P). The Lisbon Valley oilfield has approximately 140 wells and is contiguous with the Blueberry Unit. According to production statistics, as reported by the Utah Department of Natural Resources, Oil, Gas and Mining Division, cumulative lifetime production within the Lisbon Valley oilfield has totaled 51.4 million barrels of oil as of May 2018 ("Oil Production by Field, Utah Department of Natural Resources, Division of Oil, Gas and Mining"; January 2018; Click Here). The Paradox Basin has been noted by the USGS as having one of the largest undeveloped oil and gas fields in the United States ("Assessment of Oil and Gas Resources in the Paradox Basin Province…"; USGS; 2011; Click Here).
Blueberry Unit
MGX is currently earning a 75% working interest in the Project, with the remaining interest primarily controlled by the Partner. The Project is host to National Instrument (N.I) 51-101 estimated prospective resources (the "Estimate") consisting of leasehold and royalty interests in San Juan County, Utah and Miguel County, Colorado. The estimate was prepared by the Ryder Scott Company, L.P. ("Ryder Scott"), an independent qualified reserves evaluator within the meaning of N.I. 51-101 - Standards of Disclosure for Oil and Gas Activities ("NI 51-101"), with an effective date of June 30, 2017. The Estimate was prepared in accordance with N.I. 51-101 and the Canadian Oil and Gas Evaluation.
Estimated Gross Volumes
Unrisked Prospective (Recoverable) Hydrocarbon Resources
Leasehold Interest in San Juan County, Utah and San Miguel County, Colorado
MGX MINERALS INC.
As of June 30,2017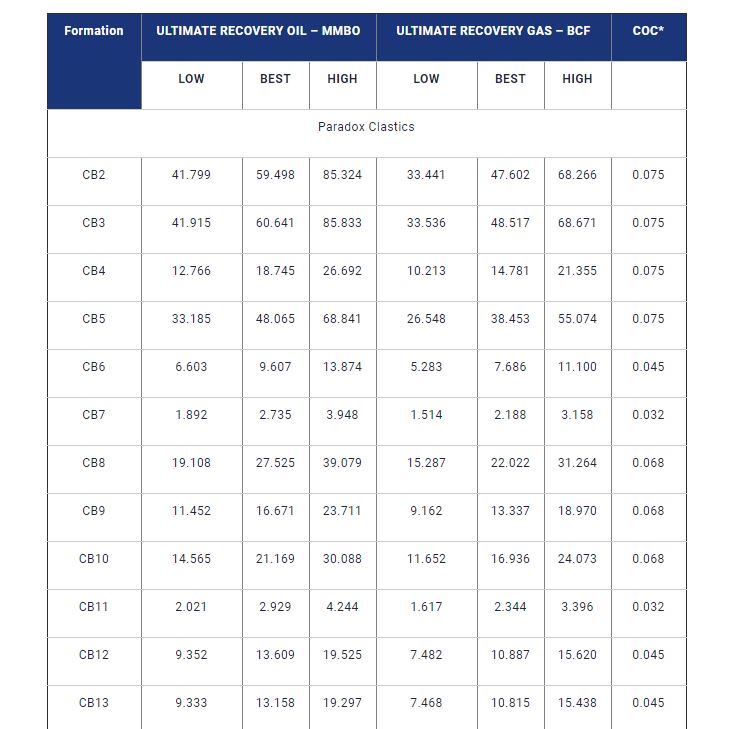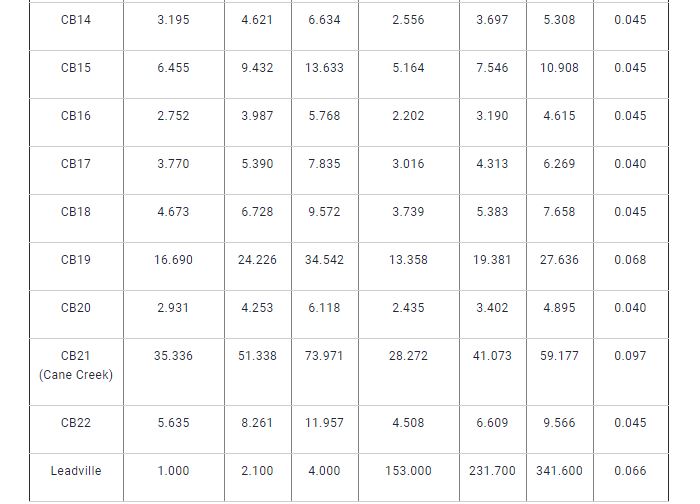 *COC – Chance of Commerciality = Chance of Discovery * Chance of Development
Rapid Lithium Brine Extraction Technology
MGX has developed a rapid lithium extraction technology eliminating or greatly reducing the physical footprint and investment in large, multi-phase, lake sized, lined evaporation ponds, as well as enhancing the quality of extraction and recovery across a complex range of brines as compared with traditional solar evaporation. This technology is applicable to petrolithium (oil and gas wastewater), natural brine, and other brine sources such as lithium-rich mine and industrial plant wastewater. The technology was recently chosen as winner of the Base and Specialty Metals Industry Leadership Award at the 2018 S&P Global Platts Global Metals Awards, held in London in May (see press release dated May 18, 2018).
About MGX Minerals
MGX Minerals is a diversified Canadian resource company with interests in advanced material and energy assets throughout North America. Learn more at www.mgxminerals.com.
DISCLOSURE: The views and opinions expressed in this article are those of the authors, and do not represent the views of equities.com. Readers should not consider statements made by the author as formal recommendations and should consult their financial advisor before making any investment decisions. To read our full disclosure, please go to: http://www.equities.com/disclaimer
Source: Equities.com News (September 17, 2018 - 8:30 AM EDT)
News by QuoteMedia
www.quotemedia.com